Readers, listeners,
"Thanks to the music the passions enjoy themselves."
Friedrich Nietzsche (German philosopher; 1844-1900)
---
Competition
This month, you can win a CD of the ensemble Sagittarius, if you know the answer to the question.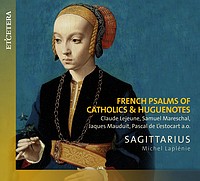 Last month's question was: at what age did
Felix Mendelssohn compose his first String Quartet and when his second?

The answer was: Mendelssohn wrote his String Quartet no. 2 in A at the age of 18 (in 1827 - actually his first). He dedicated it to Ludwig von Beethoven. He composed his String Quartet no. 1 in Es in 1829 (actually his second).
Mendelssohn was 20 years old at the time and he dedicated it to next door girl Betty Pistor.
The lucky winner is: C. Dubbeldam uit Baarland. Congratulations!

This month's question

The question for January consists of two questions...
---
New programme 'Tango: Song of Buenos Aires'
On 23 January 2015 at 22:00, we will start with a new programme of the Concertzender. We will be broadcasting the first episode of
the programme 'Tango – Song of Buenos Aires'. For this programme, producer Joep à Campo will be making use of the lyrics of his novel of the same name – Tango – with Dutch translations of tango songs, which has been released recently.
The Argentinian tango has been quite popular lately, in music and dance. However, music
lovers and dancers regularly ask questions like: where is this or that song actually about? Justifiably, because lyrics are an essential part
of it. When you are dancing in Buenos Aires, ladies who you are dancing with will sing-along whole song texts in your ear. Phrases from the songs have become fixed expressions in every-
day speech. Many Argentinian writers have occupied themselves with tango lyrics. In short, tango is a trinity of music, dance and lyrics. These lyrics give an impression of the environ-
ment and the perception of it, to which the classical tango expresses. That is why we give a short translation or description of the lyrics with each song.
---
In Memoriam Arjen Grolleman on 18 January 2015
On 20 January 2015, it will be five years ago that the producer Arjen Grolleman has passed away by a tragic accident in his own house.
Arjan was connected to the Concertzender for several years, and made programmes such as 'Popart' and 'Il Futurismo'. He was also the
great man behind the alternative radio station Kink FM, in which he produced programmes like 'Avondland' and 'X-Rated'. At the same time, Arjen was station-voice at RTL.
On 18 January 2015, the programme 'X-Rated' with host Bob Rusche will be completely dedi-
cated to Arjen.
---
Festival Early Music 2014 in 'Concertzender Live'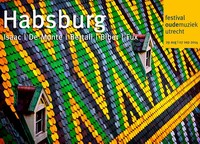 In January, the Concertzender will be
broadcasting not one, but two episodes
of the concert recordings of the Festival
Early Music 2014.
On Sunday 11 January from 15:00 till 17:00,
the concerts of the Ensemble Leones and harpsichordist Catalina Vicens will be aired.
The Ensemble Leones led by Marc Lewon dedicated her programme to minstrel Oswald
von Wolkenstein, who was in a constant conflict with Habsburg rulers. However, thanks to his interest in a new development – the polyphony – he became one of the first German renaissance composers.
---
Current Events of the Concertzender
The Concertzender aims to serve their audience even better by producing
a programme about current events in the field of culture. So, we will be broadcasting a weekly programme that will pay attention to the highlights
of what has occurred in the field of music in the Netherlands, in the following week of the broadcast. In which, broader cultural offers like museums and
sorts will be paid attention as well.
An important focus will be on the two places to which the Concertzender is closely attached – Amsterdam and Utrecht. However, the large nationwide offers will not be forgotten.
---
Viola de Hoog in a new Café Zimmermann
Do you love Bach? Every day? You cannot live without it? Do you listen to the radio programme 'No Day without Bach? Do you know the history of Café Zimmermann? The Zimmermannsche Kaffeehaus of Gottfried Zimmermann in Leipzig, where since 1729, besides Philipp Telemann, Johann Sebastian Bach frequently made music and met with his contemporaries in Café Zimmermann?
You are more than welcome than to visit us in Utrecht, the Netherlands, on 24 January 2015.
In the chapel of the 16th century St. Peter's Church, we will be recording for the radio programme Café Zimmermann, the radio programme of the producers of 'No Day without Bach'. With live music and conversations with musicians about their fascination with music of J.S. Bach.
---
CD of the month: Sanseverino – Le petit bal perdu
Sylvester Hoogmoed (see 'Introducing') chose this CD of the month of January.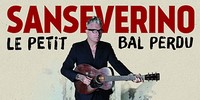 This is what he has to say about it:
"Stéphane Sanseverino was inspired by Charles Trenet, Edith Piaf and Boris Vian, and especially by Django Reinhardt. Thanks to his contagious guitar accompaniment, his chansons would also attract a non-French-speaking audience, I think. Just like with this other famous Reinhardt epigone, Thomas Dutronc, who had a very successful performance in Paradiso last year, and will be releasing a new album early 2015.
On his new CD, Sanseverino has re-makes of a few classics, like 'Route National 7' (from Trenet), 'La Java des Bombes Atomiques' (Vian) and 'Il Suffirait de Presque Rien' (known here as the version of Sonneveld). Cheerful music to get through these cloudy winter days."
---
Amsterdam Andalusian Orchestra in Acoustic Roots
In the first episode of 'Acoustic Roots' of 2015, our guests will be the Amsterdam Andalusian Orchestra. The concert will be recorded in the
Pieternel, in the St. Peter's church in Utrecht, and broadcasted on 16
January at 21:00.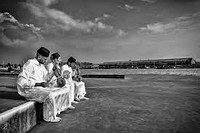 The Amsterdam Andalusian Orchestra attends
to the musical heritage of Andalusia. Between the 9th and 15th century, this part of Europe created a furore in the field of music, literature and science. In those days, the region was named Al Andalus and many diverse communities and religions lived together. The Amsterdam Andalusian Orchestra now tells the story of Al Andalus and the influence it had on our society through music, theatre, literature and education.
---
Introducing …
Sylvester Hoogmoed, host and producer of chanson programmes
"I am a host and composer of the weekly chanson programme on Saturday night. Additionally, I hosted other programmes up till a few years ago. Hopefully, I will have enough spare time in the future to that again."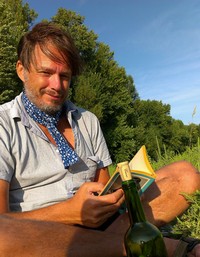 Poetic Lyrics
"Firstly, it goes without saying that I listen to
a lot of music. New CDs, but also older ones,
when I will be featuring a theme or musician
in a programme. I also try to keep myself up-
to-date by reading newspapers and blogs to know what is happening in the world of French Chanson. Due to lack of time, I mostly confine myself to France, with an occasional diverge to the Netherlands, Spain, Germany and Italy. Piles of new CDs with beautiful poetic lyrics to elegant music is still being released in France every year. That is undoubtedly linked to the language and the literary tradition in that country. I do not pay attention to Anglo-Saxon singer-song-writers, I think that it is a different genre. Without a question, there are many English-speaking artists who would fit perfectly in my programme. However, plenty of English-spoken music is being broadcasted at other radio stations."
---
Next newsletter
The next newsletter from the Concertzender will appear in February.
In the meantime, go to » our website for the latest news.
---
Help us to continue broadcasting
Are you a supporter of the Concertzender but not yet a sponsor?
» register as a sponsor or
» make a donation.
Dependant on the amount of the donation you will receive:
a guided tour of the studio and a chance to meet the progamme makers
a cd from the Concertzender featuring Young Dutch Performers
2 tickets for our annual concert and presentation
If you are already a sponsor, perhaps you have friends or colleagues who would also be interested in supporting the Concertzender.
» register your friend for our newsletter and inform him or her of the possibilities to sponsor the Concerzender.