In the first episode of 'Acoustic Roots' of 2015, our guests will be the Amsterdam Andalusian Orchestra. The concert will be recorded in the Pieternel, in the St. Peter's church in Utrecht, and broad-
casted on 16 January at 21:00.
The Amsterdam Andalusian Orchestra attends to the musical heritage of Andalusia. Between the 9th and 15th century, this part of Europe created a furore in the field of music, literature and science. In those days, the region was named Al Andalus and many diverse communities and religions lived together. The Amsterdam Andalusian Orchestra now tells the story of Al Andalus and the influence it had
on our society through music, theatre, literature and education.
The Andalusian repertoire consists of 24 musical chapters, which are developed
in the centuries when Moors lived on the Iberian Peninsula. These chapters are
about a variation of themes: love, power, nature, spirituality. The music style,
which is called 'Tarb Al-Andalus', was a new form in which the Jewish, Christian, Persian and Arabic sounds came together. To produce these sounds, a large set
of instruments were used like classical violin, qanun, Andalusian violin rebab, tar (tambourine) ancient (lute), derboka (percussion). After the Spanish Inquisition,
this stream of music ended up in Morocco and Algeria. During this time, half of the repertoire has gone missing, unfortunately.
Nowadays, eleven chapters are being played, which consists of different musical 'sana'at'. The percussion determines the musical rhythm and the Andalusian repertoire knows five basic rhythms.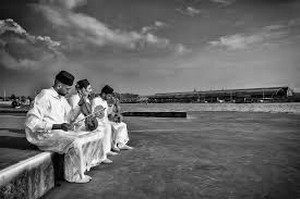 Besides the eleven chapters, the Andalusian music consists of instrumental (taqsim) and vocal (mawwal) improvisations. Each generation of Andalusian musicians add something to it, next to the basics of the eleven classical chapters.
Up till this day, the Andalusian repertoire in Morocco is being played in its pure form and completed with new instruments like cello, contrabass and piano.
The musicians are:
Mohamed Chairi – violin, oud and song
Dwight Breinburg – violin, translations and song
Abdelgafour Attahiri – song, tambourine
Amed Ahaddaf – oud, instructor