This month, you can win a CD of the ensemble Sagittarius, if you know the answer to the question.
Last month's question was: at what age did Felix Mendelssohn compose his first String Quartet and when his second?

The answer was: Mendelssohn wrote his String Quartet no. 2 in A at the age of
18 (in 1827 - actually his first). He dedicated it to Ludwig von Beethoven. He com-
posed his String Quartet no. 1 in Es in 1829 (actually his second). Mendelssohn
was 20 years old at the time and he dedicated it to next door girl Betty Pistor.
The lucky winner is: C. Dubbeldam uit Baarland. Congratulations!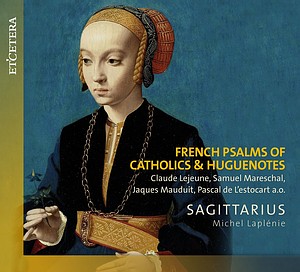 This month's question

The question for January
consists of two questions:
What studies did Michel
Laplénie follow, before he devoted himself to singing?
And in which Orchestra did
he start?

What can you win?

De cd 'French Psalms of
Catholics & Huguenotes'
by the ensemble Sagittarius conducted by Michel Laplénie [Etcetera KTC 1509].

What do you have to do?

We will select the prize winner from the correct answers sent to us and publish
the winner in our next newsletter together with our next competition. The winner will also personally receive an e-mail.

This column is possible thanks to several record labels. They provide us with CDs, DVDs and concert tickets. This month's CD has been issued by Klassieke Zaken.