Readers, listeners,
We wish you a healthy and musical 2018! And don't forget:
"Where words fail, music speaks."
Hans Christian Andersen (Danish author, 1805 – 1875)

---
Competition
This month you can win a CD with the Cello concertos by Victor Herbert performed by Mark Kosower if you know the correct answer to our question.
The question in December was: From which collection does Urlicht from the Second Symphony by Gustav Mahler come and who wrote the text? The correct answer is: Des Knaben Wunderhorn, a collection that was written by Clemens Brentano and Achim von Arnim.
The winner of the DVD with the Second Symphony van Mahler is Jos van den Wijngaart from Oude Wetering. Congratulations!
---
Composer of the month: Hugo Wolf
The Austrian composer Hugo Wolf was born on 13 March 1860 in Windischgrätz, a town that is now in Slovenia. His father started to give him piano and violin lessons at the age of four. He became a great admirer of Beethoven and this inspired him to start composing at an early age.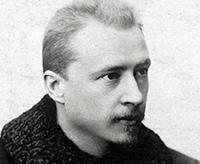 Wolf studied at the Konservatorium der Gesellschaft der Musikfreunde in Vienna from 1875 to 1877 where one of his teachers was Robert Fuchs. This was not an inspiring environment for him, but he did meet a fellow student called Gustav Mahler and they became good friends.
He was expelled from the conservatory before completing his studies as a result of a prank in the form of a threatening letter to the director of the school, a prank in which he was probably not even involved.
---
New on the Concertzender: Rush Hour
The Contemporary Music department is starting a new series of programmes on 19 January: Rush Hour. The programmes are broadcast on Fridays from 18:00 to 19:00 CET, the same time slot as American Highways, the series made by pianist and composer Guy Livingston. Lon van den Akker and Guy Livingston will make a new programme every 4 weeks.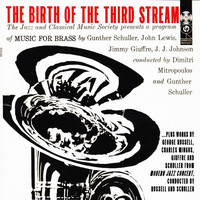 Lon van den Akker explains: "The idea for the series came from an episode of Three of a Kind, the series that I make together with Bert Broere. Last November the programme included music by George Russell: Stratusphunk. This is music from the Third Stream, a musical style that was started by Russell and fellow musician Gunther Schuller. Third Stream is a synthesis of classical music and jazz and that is also the central theme of Rush Hour.
There is also a lot of swing and improvisation in the music of (Early Music) ensembles such as L'Arpeggiata of Musica Temprana, and so they will also feature in the series. Another exmaple, the music from the acoustic cinema project of the Russische vibraphonist, composer and arranger Vladimir Golouhov."
---
Festival of Early Music 2017 in Concertzender Live
In Concertzender Live on Thursday 25 January we are broadcasting two recordings that we made during the Festival of Early Music in 2017 with music from the period in which Luther lived: Luther in Rome by Cantar Lontano and a concert with texts by Ludwig Senfl about penitence and supplication by Per-Sonat.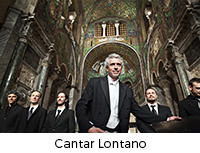 In 1511 Luther travelled to Rome. The concert Luther in Rome features music that he may have heard during his journey. The Italian ensemble Cantar Lontano led by Marco Mencoboni takes us to Rome where prayers were sung in a cultivated French-Flemish polyphony and feasts were accompanied by songs written by Italian bards.
The concert by Per-Sonat has music from the same period, but we travel to Luther's home country: Germany. The voices of Per-Sonat and the wind instruments of Concerto Palatino interpret penitential psalms en supplications by Ludwig Senfl and others including Lassus, Josquin and Isaac.
Concertzender Live: Thursday 25 January 2018, 20:00 - 22:00 CET
---
Concertzender Live: Quatuor Diotima
In November last year the French Quatuor Diotima gave a series of four concerts in the Muziekgebouw aan 't IJ over a period of three days, each concert containing a work by Schönberg, Beethoven and Boulez. The Concertzender recorded three of the four concerts.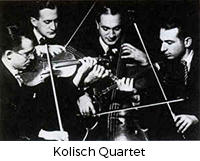 In the first place this series was a tribute to the Kolisch Quartet, an Austrian quartet who played from the 20's to the 40's. They played not only the standard string quartet repertoire but much contemporary music including the premières of the quartets by Berg, Schönberg and Bartók.
In 1936 Schönberg was in America where he composed his Fourth string quartet. The Kolisch quartet decided to baptise this in Los Angeles and to place this première in a series of four concerts each containing a quartet by Schönberg. Schönbergs four filled one half, the other half was filled by a late Beethoven quartet (the quartet opus 135 wasn't played and the Grote fuga opus 133 was played as an add-on to the quartet opus 130).
---
Next newsletter
The next newsletter from the Concertzender will appear in February.
In the meantime, go to » our website for the latest news.
---
Help us to continue broadcasting
Are you a supporter of the Concertzender but not a sponsor yet?
» register as a sponsor or
» make a donation.
Depending on the amount of the donation, you will receive:
a guided tour of the studio and a chance to meet the programme makers
a CD from the Concertzender featuring Young Dutch Performers
2 tickets for our annual concert and presentation
If you are a sponsor already, perhaps you have friends or colleagues who would also be interested in supporting the Concertzender.
» register your friends for our newsletter and inform them about the possibilities to sponsor the Concertzender.