Dear reader,
In March you can listen to a live recording of the Festival of Early Music Utrecht 2010 every other week. Read all about it in this newsletter. Also we feature the March editions of the 'Prize Question' and 'Introducing' columns…
Last but not least, bring in donators and you and the donator(s) will receive a unique CD! Read all about it in this edition.
 Read on and enjoy!

Greetings,
The Concertzender
---
Welcome new Friends into the fold and win a CD
Passion. Dedication to quality. No commercials or commercialism. We at the Concertzender are dedicated to bringing you only the best music, 24 hours a day, 7 days a week. This is what the Concertzender stands for. We need your help to keep this one-of-a-kind radio station in the air. Donations are what makes the Concertzender, your radio station, possible. Without the continued support of our Friends and of new donators we cannot continue to broadcast your favourite music. So spread the news and share the music. The more Friends, the better.  Tell them about the website and the films on the site so they can become acquainted with us. Let them discover quality music; your music. Any new donators you can provide us with will receive a welcome CD and so will you! A special CD with unique recordings.
Let's get down to brass tacks. Most of us are volunteers. Broadcasting costs money, however. With only 2000 new Friends we can keep the Concertzender in the air. A breath of fresh air in the air. That's the Concertzender. There's so much McMusic out there and it is only getting worse. So join us now in our campaign. The Concertzender needs you!



How does it work?
provide the names and contact details of 3 people who might beinterested in donating. That's all.
we will approach them through a letter or email and ask them to become Friends.
should one or more of these people decide to support us, then they AND you will receive » a CD with recordings made by the Concertzender
March 15 is our yearly donation campaign so please take action before that date!

We thank you for your efforts on our and your behalf!
---
Editor's tip: Early Music Festival 2011
In March, Concertzender Live brings you 4 recordings from the 2010 Early Musical Festival in Utrecht.

Sat. March 5 11.00-12.00 am


Il Suonar Parlante directed by Vittorio Ghielmi (see photo) recently toured through Holland with a scintillating interpretation of Bach's Kunst der Fuge. That this Italian ensemble is also fluent in the French lament is apparent in their interpretation of 'Leçons de ténèbres' by the obscure French composer, Mathieu Aubery.

This concert kicks off with a short commissioned piece by the young composer, Max Knigge. The vocalists are: tenor Krystian Adam en bass Gianluca Buratto.

» you can listen to this concert here




Sat. March 12  - 11:00-12:00 am CET
The 'Leçons de ténèbres' for tenor en continuo by Charpentier will bealternated with instrumental music by Couperin and Marais. Grand finale is a commissioned piece by Bart Visman. Ensemble Pierre Robert led by Frédéric Desenclos with tenor Marcel Beekman (photo).
» here's the link to the concert

Sun. March 13  - 04:00-05:00 pm CET
Eugénie Warnier (photo) and Élodie Fonnard sing the only 3 remaining 'L

eçons de ténèbres' for 1 and 2 sopranos by François Couperin. Also a Miserere by De Brossard and a commissioned composition by Anthony Fiumara. Featuring Le Parlement de Musique led by Martin Gester.
This broadcast will be repeated on:
Mon. March 21
Sat. Apr. 2
11:00-12:00 am CET
» more info about the March 13 broadcast


Sun. March 20 - 04:00-05:00 pm CET
The Dutch La Sfera Armoniosa led by Mike Fentross (see photo), with

the sopranos Keren Motseri and Eugénie Warnier, 'artist in residence' of the 2010 Early Music Festival. They perform the 'Leçons de ténèbres' for 1 and 2 sopranen by Marc-Antoine Charpentier. De commissioned composition is by Boudewijn Tarenskeen.
This broadcast will be repeated on:
Mon. March 28
Sat. April 9l
11:00-12:00 am CET
» more info about the broadcast of March 20

Background info (in Dutch)
check out » weblog early music or » Dossiers for an overview of our broadcasts of the 2010 Early Music Festival.
---
Prize Question
First the correct answer to the January prize question: "Which relationship is there between John Blow and Henry Purcell?". The correct answer: Purcell was a pupil of Blow. Another correct answer: They were both organ players at Westminster Abbey. The winner is Cees Bood. He is the lucky recipient of a CD.
New prize question
Do you know the answer to the following question? Answer correctly and you can win: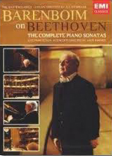 A DVD box with 6 DVD's directed by Andy Sommer (EMI 368993 9)
Daniel Barenboim performing the complete piano sonatas of Ludwig van Beethoven
extras: master classes by Barenboim
This is what you have to do to win:
Answer the question:  "Which Dutch person had a leading role in Andy Sommers last film (2009) and what was the film called?"
Send your answer to: » prijsvraag@concertzender.nl
We will pick one winner by ballot to win the DVD box. The winner will be announced:  
14 days after the publication of this newsletter
in an email to the winners
via a news bulletin on » our website
in the next newsletter in the Prize Question column
This column is made possible by various record companies. They provide us with the winning CD's, DVD's and concert tickets.
---
Fred Dubiez, program maker and office staff member
"I began working for the Concertzender in 1994 as a volunteer after meeting the music technician Willem Bannink in the Jazz Archive. He suggested that there might be something interesting for me to do as a program maker.

Since then that is exactly what I have been doing. In the past I did quite a  lot and now I am still making one program a month: Krizz Krazz. What I love about this program is that I can choose whatever I love, whether it is new releases together with other recordings and programs. I made these programs at home using my own CD's.
I also presented jazz programs in particular for 12 years. I work in the offices of the Concertzender on the website and by implementing jazz CD's. I spend about two days a week in the office.  
Obviously,  music is important to me and I feel passionate about the Concertzender. Working with like-minded spirits, some with enormous musical knowledge, to broadcast music, is a great contribution to music in general."
From classical to jazz
"Through my parents I developed an ear for music. 19th century music is what I was exposed to most during my childhood years. When I was 12 I heard jazz for the first time and this has remained my chief musical love.
Why jazz? I can't explain this rationally; after all, music is emotion. But not entirely, because it must also contain an element of quality which determines the level of excellence, and for which I have developed an ear during the years."
Fokker
"Many years ago I worked in the airline industry for Fokker. I worked as part of a customer support group. 'Customer support' meant maintaining contact with the world-wide network of companies who used Fokker airplanes. We also provided these companies with technical support and delivered reserve parts to them."
CD Label
"I have my own CD label, Daybreak, on which I provide mostly Dutch jazz musicians with the opportunity to show their stuff.  It is mainstream jazz in the broadest definition of the word."
"And lastly, as you can see in the photo, I am also a proud grandfather!"
---

Next newsletter
The next Concertzender newsletter will appear in April.
Please keep an eye on » our website for the latest news items.
---
Help us stay in the air.
International music for an international audience!
We only need 2000 more donators to keep going. Help us achieve that goal!

The Concertzender is an independent radio station run by a group of passionate volunteers and strives to bring you a broad variety of the highest quality music.
Classical, jazz, folk, world, or new and experimental music, the Concertzender has it all.



Thanks to the invaluable support of our Friends, we are able to bring you your music 24/7.

100% of our broadcast schedule is funded by public and private donations.

Become a » Friend of the Concertzender no matter where you are and make a donation or contribution. Sponsors are welcome too!
Global music for a global audience!