Readers, listeners,
"Never dance naked because there are parts of the body that keep on moving when the music stops."
Gerald Arpino (American dancer/choreographer, 1923 – 2008)

---
Competition
This month you can win a cd of Mozart piano concertos. To do so you have to answer our prize question correctly.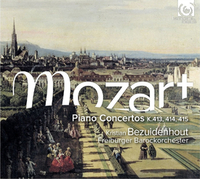 The concertos are played by Kristian Bezuidenhout (fortepiano) and the Freiburger Barockorchester [Harmonia Mundi HMC 902218].
Previous competition
Last month's prize question was: Who wrote a Dutch novel about Goldberg? The answer was: Bert Natter. The winner of the cd of the Goldberg Variations by Bach, performed by Blandine Rannou, is R. Breuring. Congratulations!
---
Ockeghem's Deplorations
On the 6th of Februari of 1497 - 520 years ago this week - the Franco-Flemish composer Johannes Ockeghem died. Josquin des Prez was one of his students, and wrote his famous deploration Nymphes des Bois to honour his deceased master. Josquin was inspired by Ockeghem, who had written a deploration for his own teacher: Gilles Binchois.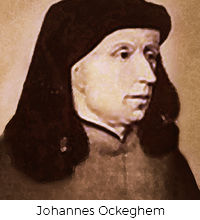 In two Documentos the two-part series Ockeghem's Deplorations is centered around these two deplorations: one for, and one by Ockeghem.

Part one is dedicated to Ockeghem's own music, and that of his teacher Binchois. This program was originally broadcast last week, and will be repeated on February 8th at 11:00 CET.

On February 6th at 19:00 CET we broadcast the second part which centres on Josquin's deploration for Ockeghem, and other music that connects the two composers.

Documento: Ockeghem's Deplorations
Monday 6 February, 19:00 CET: part 2
Wednesday 8 February, 11:00 CET: part 1 (repeat)
---
Earwitness: Everything in memory of you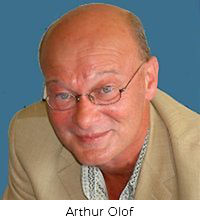 On 8th February we reach the hundredth and last episode of the series Earwitness: Everything in memory of you. A series in which programme maker Arthur Olof (1957-2014) described Russian music in the 20th century.
Arthur passed away in 2014. Once it became clear that he was not going to get better, he put everything into completing his life's work. He couldn't, so violinist Floortje Beljon was asked to do so. This is how that happened.
"During secondary school I discovered Shostakovich's music. I listened to all his music and went to the school library to see if I could get the book Testimony to learn more about the composer's life. They didn't have it, but the librarian gave me Arthur Olof's email address, saying if I wanted to know more about Shostakovich I should certainly contact him. I e-mailed Arthur and that was the start of a long e-mail correspondence."
---
Classic Jazz: 100 years of jazz recordings
This month we can celebrate the 100th anniversary of the first recordings of a jazz band.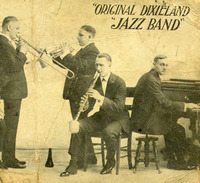 The Original Dixieland Jass Band recorded tunes including Livery Stable Blues and Dixie Jass Band One Step on the 26th January 2017. The recordings were made for the Victor label, that is known in Europe as His Master's Voice (with the dog that is listening to the sound from the horn of a record player).
These recordings were the start of the jazz age. Unfortunately not all of the members of the band were able to enjoy the success: trombonist Edwin Edwards was called into military service and pianist Henry Ragas died in 1918 from the Spanish flu.
Our programme Classic Jazz is broadcast on Tuesday 14 February at 21:00 CET and looks at these earliest jazz recordings.
---
Nieuw programma: Terra Incognita
On Thursday 16th February you can hear the first episode of Terra Incognita, a programme which will focus on music from the small indepedent labels.
The programme will be a voyage of discovery with artists you won't find on the main stages. It will be mostly musicians from the bars and small halls who will get the attention in Terra Incognita that they rarely receive in the commercial world.
The listener will hear a broad variety of musical styles including folk, blues and pop, played by (still) unknown and original musicians. Terra Incognita is an atmospheric listening place with mainly gentle music where the listener can make many discoveries. Have you ever heard of Do You Feel What I Feel Deer, or Dodson and Fogg? Prepare to be surprised….
---
Liszt Concours: discover new piano talent!
In February the international selection rounds of the 11th Liszt Concours are held in New York, Utrecht, Moskou and Tokio. 74 top young pianists from 24 countries and six continents are taking part.
The jury has the difficult task of selecting 14 of these pianists for the semi-finals that take place from the 8th October to the 21st October in Utrecht.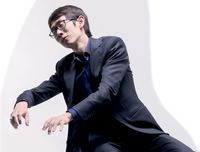 On the 10th, 11th and 12th February you can be present at the selection round in TivoliVredenburg in Utrecht and listen to 34 piano talents who each have the opportunity to play a 30 minute programme.
Sessions take place at 11:00 (except on Friday), 13:30 and 20:00.
The Concertzender will also be recording these sessions.
---
Acoustic Roots in De Kargadoor: The Oldtime Stringband
On Friday 10th February we're making another radio-recording in De Kargadoor in Utrecht. The Oldtime Stringband will be our guests.
The Oldtime Stringband play a mix of bluegrass, folk and Americana. They started as a one-off formation and after a successful performance they decided to carry on together.
A combination of guitar, violin, banjo, mandolin, double bass, accordion and four voices together with the voice of singer Shelly O'Day is what creates the varied but recognisable band sound.
Five years later they have three cd's, three English tours, a tour through California and many performances in the Netherlands and Belgium behind them.
---
[advertentie]
Gonzo (Circus), the magazine for adventurous and uncompromising music!
Are you always searching for original and challenging music, art and film? Then Gonzo (Circus) is the magazine for you! Every two months we write about the music that you will not hear anywhere else ánd look at the art that you will not see anywhere else. And because the only way to truly appreciate the music is by listening to it, we also include a CD with a selection of the music profiled in the magazine. We don't hold your hand, we give you a shove in the right direction!
For more information go to www.gonzocircus.com

---
Next newsletter
The next newsletter from the Concertzender will appear in March.
In the meantime, go to » our website for the latest news.
---
Help us to continue broadcasting
Are you a supporter of the Concertzender but not yet a sponsor?
» register as a sponsor or
» make a donation.
Dependant on the amount of the donation you will receive:
a guided tour of the studio and a chance to meet the programme makers
a CD from the Concertzender featuring Young Dutch Performers
2 tickets for our annual concert and presentation
If you are already a sponsor, perhaps you have friends or colleagues who would also be interested in supporting the Concertzender.
» register your friend for our newsletter and inform him or her of the possibilities to sponsor the Concertzender.