To all our readers,
Support the Concertzender and treat yourself to a unique evening full of wonderful music! We are organising a benefit festival on 6 May in the Amstelkerk in Amsterdam.
We are able to present an exceptional programme: Liza Ferschtman playing
Bach, Erik Bosgraaf in an adventurous performance with saxophonist Yuri
Honing and pianist Guus Janssen. Also performing are the Ragazze Quartet,
the Rosa Ensemble with Eefje de Visser and to close the evening a party with
the Amsterdam Klezmer Band. A quality programme with lots of variety, typical
of the Concertzender.
The Concertzender has been broadcasting such music on the radio for the last
30 years and we make more than 150 concert recordings every year. Recently
we were informed that our current sponsors would need to end their partnerships. We are therefore actively seeking new funding and have started a campaign to attract new sponsors. This benefit festival is part of that campaign.
The musicians are performing for free and this demonstrates the value that the Concertzender has for them. A ticket costs €35 and this will not only give you an great evening but you will also be supporting the Concertzender. You can read further on in this newsletter about how you can order your tickets.
And we wish you all an enjoyable Spring!
Sem de Jongh
Directeur
---
Competition
This month you can win a CD with Gregorian music if you know the correct answer to our question.
The question last month was: In which city was the premiere of Sylvia Maessen's reconstruction of the chamber music versions of Chopin's piano concertos and
which international ensemble gave the performance?
The correct answer was: 'Toronto, and the ensemble Tafelmusik.' There were
six winners: Lolkje Ouderkerken, Sneek; Sander de Boer, Leeuwarden; Luc Nijs, Turnhout; Wym van Noort, Utrecht; Arnold van der Waals and Nicoline Blonk,
Gouda.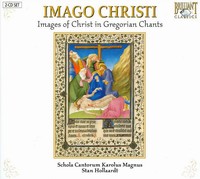 Their prize is the CD 'Inspired by Poetry' from
the composer Sylvia Maessen.

This month's question

To whom does Gregorian music owe its name and in which period was it made?

What can you win?

The double CD 'Imago Christi - Images of Christ in Gregorian Chants', performed by the Schola Cantorum Karolus Magnus conducted by Stan Hollaardt [Brilliant Classics BC 93001].
---
Acoustic Roots with Karim Baggili
In an extra broadcast 'Acoustic Roots' on Friday 4 April from 21:00 to 22:00
the guitarist and ud-player Karim Baggili will be the guest in our studio.
Karim Baggili is of Jordanian-Yugoslavian descent and was born in Brussels in
1976. He is self-taught as composer, guitarist and ud-player. When he was 16 years old he started playing the electric guitar after hearing the music of Dire Straits. He formed a coverband 'Calling Mark' with which he still performs occasionally. After hearing Paco de Lucía play at the age of 20, he started
studying flamenco guitar. During a trip through Jordan he bought an Arabian
lute (ud).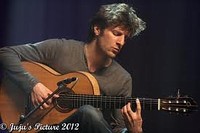 And then he began to write music for theatre and film as well.

Movingly beautiful melodies

He has developed an entirely personal style of composing and playing, in which he switches between flamenco and Arabic music. These beautiful melodies are typical of Baggili, for instance the song 'Lua', which he will play at
the start of the programme.
---
CD of the month: Booker Little: Quartet, quintet & sextet complete recordings.
This month's CD was chosen by Bert Broere, a programme maker in our Jazz department. He has the following to say about it: "Recently a new double CD was released on the American Classics label with music by the trumpetist Booker Little (1938 – 1961)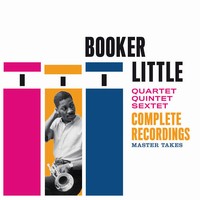 who died at a very early age."

"Little started playing when he was 12 years
old and made his debut with the band of tenor saxophonist Johnny Griffin while he was still studying at the conservatory. By the end of 1950s he was in the group of the drummer
Max Roach and then worked as a freelancer
in New York. He was much in demand as a session musician and seemed to be set to become the only true successor to the
legendary trumpetist Clifford Brown. You
can hear this in his contributions to the monumental records made by the multi-
instrumentalist Eric Dolphy and the saxophonist John Coltrane. He released only four records under his own name, each one on a different label. These four records are now brought together on this release. This is a worthy tribute to the trumpetist who tragically died from a kidney disease at the age of 23."
---
Concertzender Benefit Festival in the Amstelkerk in Amsterdam
On Tuesday 6 May the Concertzender will organize a benefit festival in the Amstelkerk in Amsterdam. Liza Ferschtnan, Ragazze Quartet, Yuri Honing,
Guus Janssen, Erik Bosgraaf, Rosa Ensemble with Eefje de Visser and the Amsterdam Klezmer Band will be performing.
For over 30 years the Concertzender has been broadcasting music of the highest quality, from classical music to jazz and from experimental electronic music to world music.
Now however our future is threatened because two sponsors have withdrawn
their support. This means that we will lose 100,000 Euros annually, and that is approximately two thirds of our total income. Also it means that we have to find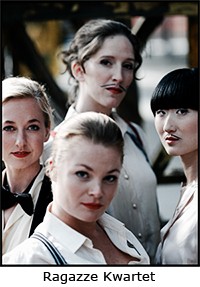 new accommodation. This is the reason that
we are organising the benefit festival.
Many artists support the Concertzender and have promised their cooperation. A number of these artists have agreed to play during the Benefit festival in the Amstelkerk on 6 May.
Concertzender Benefit Festival
Tuesday May 6th 2014, from 20.00, venue
opens at 19.30.
Amstelkerk, Amstelveld 10, Amsterdam
violinist Liza Ferschtman,
pianist Guus Janssen
jazz saxofonist Yuri Honing
recorder player Erik Bosgraaf
Rosa Ensemble with Eefje de Visser
Ragazze Kwartet
Amsterdam Klezmer Band
---
Café Zimmermann with Arno Bornkamp
The first broadcast of 'Café Zimmermann' is on Wednesday 23 April, the
new live programme from the team responsible for 'Bach Ad Infinitum'.
This programme was recorded in March in Brasserie 't Lagerhuys in
Muiderberg and featured the world-renowned saxophonist Arno Bornkamp.
In a live performance in a relaxed café setting Bornkamp played excerpts from
the Bach cello suites, the partita for traverso and the second violin partita.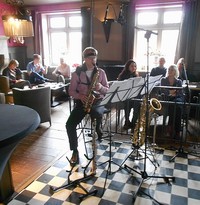 The presenters Govert Jan Bach and Karin van den Boogaert also talked to Arno Bornkamp about his relations with Bach's music, why he is playing this music on the saxophone and much more.

You can listen to this special performance as
if you were there during the recording. 'Café Zimmermann' will be broadcast twice in the timeslot usually reserved for 'Bach Ad Infinitum' and also one more time on the Sunday moring between these broadcasts.

Broadcasts:
Wednesday 23 April 13.00-14.00
Sunday 27 April 09.00-10.00
Wednesday 30 April 13.00-14.00
---
Oene van Geel in Acoustic Roots
Violinist and composer Oene van Geel is our guest in Acoustic Roots on Friday 18 April 2014.
Oene van Geel is an adventurous musician. "I operate across a broad spectrum
as a musician", he says. "From jazz and pop to chamber music and Indian music.
I find it difficult to chose, and so I don't. I combine building blocks from all types
of music."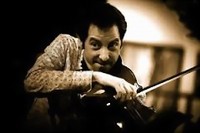 The musician, who studied jazz violin at the Rotterdam Conservatory, says that he still has a lot to learn about his instrument. As well as using a bow, he plucks the strings, plays it like a guitar and drums on the body.
Improvising guest soloist
Oene van Geel is a member of several groups including Zapp 4, Estafest, The Nordanians and
OOOO (with pianist Tony Roe, clarinettist Oguz Buyukberber and dancer Kenzo Kusuda). He is also regularly invited to take part in concerts as a improvising guest soloist and has travelled extensively through Europe, India, Japan, the United States and Canada. He has won the VPRO/Boy Edgar Prijs (2013), Sena Performers Toonzetters Prijs (2012, with Zapp 4), Kersjes van de Groenekan Prijs (2005, with Zapp 4), Deloitte Jazz Prijs (2002), Dutch Jazz Competition (2001) and the Jur Naessens Muziekprijs (2000).
---
Next newsletter
The next newsletter from the Concertzender will appear in May.
In the meantime, go to » our website for the latest news.
---
Help us to continue broadcasting
Are you a supporter of the Concertzender but not yet a sponsor?
» register as a sponsor or
» make a donation.
Dependant on the amount of the donation you will receive:
a guided tour of the studio and a chance to meet the progamme makers
a cd from the Concertzender featuring Young Dutch Performers
2 tickets for our annual concert and presentation
If you are already a sponsor, perhaps you have friends or colleagues who would also be interested in supporting the Concertzender.
» register your friend for our newsletter and inform him or her of the possibilities to sponsor the Concerzender.