Dear reader,
The Holland Baroque Society seems to be all over the place.  This newsletter contains no less than two news items on this innovative baroque ensemble that transcends barriers.
In 'Introducing…' you get to meet Ton Maas, one of our program makers.
This month's  'Prize question' offers you the opportunity to win an extraordinary CD. It was made specially for an exhibition at the Amsterdam Van Gogh Museum. Read on how you may obtain it.
Read all about the livestream from Vredenburg Leeuwenbergh with the Calefax Reed quintet's 1000th concert.
And finally programmer Peter Tra offers us recordings made by the Concertzender at the Utrecht Vredenburg  in a new, bi-weekly series, Vredenburg Actueel.
We wish you happy reading.

De Concertzender
---
Concertzender records 'H.B.S. meets C.P.E. Bach'
The Holland Baroque Society (HBS) will perform at the Vredenburg Leeuwenbergh on Sunday 20 May at 20.00 CET. The Concertzender is Vredenburg's media partner and will record this concert with symphonies by C.P.E. Bach.
Cellist Hidemi Suzuki and flautist Alexis Kossenko will take turns in conducting and soloing. This is befitting for Carl Philip Emanuel Bach's day and age. At the time the orchestra was conducted by an instrumentalist. Sometimes there was a conductor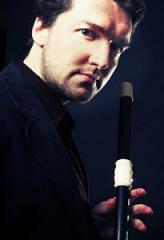 - a new phenomenon.  

With C.P.E. Bach the Holland Baroque Society enters the world of 'Empfindsamkeit': a style of music with explicitly indicated refinement, expressivity, liveliness and sudden contrasts in dynamics and tempo.

» order tickets for this concert at the Vredenburg website

Broadcast by the Concertzender
We don't know the exact broadcasting time for this concert registration yet. Please check the » Concertzender program guide.

(adapted from the Vredenburg website)
---
Holland Baroque Society in Concertzender Live with Vivaldi and a mysterious piece
Concertzender Live on Sunday 13 May from 15.00 - 17.00 CET will present a concert the Holland Baroque Society gave earlier this year at Vredenburg Leeuwenbergh. The concert was called 'HBS meets Vivaldi' and featured violinist Rachel Podger.
In 'HBS meets Vivaldi' the baroque orchestra performs Vivaldi's 12 violin concertos published in 1727 in Amsterdam. Soloist is the English violin star and audience favorite Rachel Podger (in the photograph), with whom the Holland Baroque Society successfully performed before.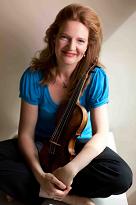 The best known part of this concert, however, is the 'Adagio'. It is a world-famous, but also a mysterious piece. We all know that Albinoni composed it, but it turns out to have been written by the 20th century musicologist Remo Giazotto!
In his edition of the work Giazotto mentioned that he reworked a fragment of an Albinoni trio sonata into an adagio. Whether this is true, we don't know. It did put Albinoni on the map forever, however, and it left us with a beautiful piece of music.
The Holland Baroque Society will scrutinize the adagio by performing it on instruments Albinoni would have been familiar with.
» more about the 13 May Concertzender Live in our online program guide
---
New program Vredenburg Actueel
Tuesdays  8 and 22 May (18.00 - 19.00 CET) will feature the new radio program Vredenburg Actueel. We recently broadcast a pilot, and from May onwards Vredenburg Actueel will air every other week.
On 8 May Peter Tra, Vredenburg's  programmer will feature recordings made by the Concertzender at Vredenburg over the past few months. He will introduce the recordings himself. He will also give previews of forthcoming concerts. The studio guest for 22 May is still to be announced.
Win tickets
The program offers you the opportunity to win tickets for a concert at Vredenburg. Listen which concert it will be, and how you may obtain your tickets
Broadcasting times and repeats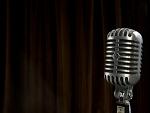 broadcast: Tuesday 8 May
repeat: Monday 4 May, 14.00-15.00 CET
repeat: Friday 18 May, 10.00-11.00 CET
broadcast: 22 May
repeat: Monday 28 May, 14.00-15.00 CET
repeat: Friday 1 June, 10.00-11.00 CET
---
Listen to the Calefax Reed quintet's 1000th concert by livestream from Vredenburg Leeuwenbergh
On Friday 18 May you are able to listen to the Calefax Reed quintet's 1000e concert in the comfort of your own living room at 19.30 CET. You don't need to go to the concert hall, but simply can surf to » www.concertzender.nl at 19.30 CET and click on the theme channel 'Concertzender Live'. This will give you a direct link to the concert hall.
The Calefax Reed quintet will perform works by:
Sweelinck
Locatelli
Kyriakides and Torstenson
The program is called 'Dé Nederlander bestaat niet' (The Dutchman doesn't exist). Good music goes beyond borders, like it always has. Dutchmen often travelled to pick up musical ideas and inspiration abroad. And to take lessons from famous Italian composers, for instance.

The heavy title fits the approach
The heavy overtone of the title 'De Nederlander bestaat niet' fits Calefax's characteristic approach: the ensemble is always looking for 'new' music and new angles. Calefax often makes its own arrangements for wind quintet.

The wind players like to shed new light on the works they perform, making them sound new, because unusual characteristics are highlighted.

Interval
Before and after the live concert on 18 May, as well as in the interval, we will broadcast music from Calefax's early days, as well as interviews with the members of the reed quintet:
oboe: Oliver Boekhoorn
clarinet: Ivar Berix
saxophone: Raaf Hekkema
bass clarinet: Jelte Althuis
bassoon: Alban Wesly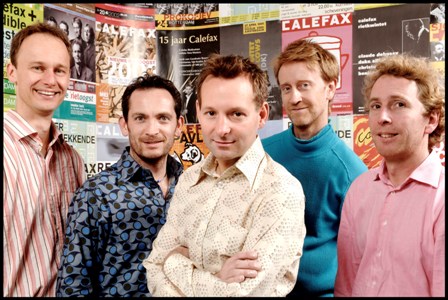 ---
Prize question on Van Gogh Museum CD
Until 17 June 2012 the Amsterdam Van Gogh Museum will show the exhibition 'Symbolism in Europe - from Van Gogh to Kandinsky'. The EMI CD 'Dreams of Nature' is made in collaboration with the museum for this exhibition. For seven of the paintings a special piece of music is selected for the visitors to listen to. Answer the following questions to win this unique CD:beluisteren.
The CD features 7 compositions accompanying 7 paintings. The works are by:
Rachmaninov
Satie
Sibelius
Čiurlionis
Schönberg
The CD also contains the 'Paa Vidderne' by Delius. It was based on a symbolist poem. The question is: who wrote this poem?
What is the prize?
the CD 'Dreams of Nature' by EMI (50999 4630782 8)
containing works by Rachmaninov, Satie, Sibelius, Čiurlionis, Schönberg and Delius
specially made for the exhibition at the Van Gogh Museum
How to win:
We will raffle off the prize among the entrants with the correct answer. We will publish the result 14 days after the publication of this newsletter:
in an e-mail to the winner
in a news item on » our website
in the next newsletter in the prize question column
Previous prize question
The previous question was: Who was decorated at the Brabant Koor's jubilee concert?

The correct answer was: Louis Buskens, the Brabant Koor's conductor.

The WINNER is fam. Meijnckens from Oisterwijk. Congratulations! The prize is on its way.

This section is made possible by various record labels. They offer us their CDs.
---
Introducing…
Ton Maas - program maker
"Since approximately 1995 I have been compiling the program 'Door de mazen van het net' for the world music department. It often concerns music I have come across by accident. Sometimes through searching bins with second hand records in an old-fashioned record store, but also by surfing the internet after tips by friends and acquaintances. "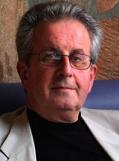 "I work for the Buddhist Broadcasting Corporation as an editor for radio and write about (world) music for the newspaper De Volkskrant and the monthly magazine Ode. This is an alternative opinion forming magazine. Their motto is: 'Don't complain about what's wrong in the world, but indicate how things can change for the better.' But as a writer I also want to give people the opportunity to listen to something. That's why I became a program maker with the Concertzender.

As a program maker with the Concertzender you're given free rein in your choice of music and what you want to tell about it. In this way I can share my finds with other music lovers."

Fascination with learning processes
"I am an avid photographer. I like to take pictures at the concerts and festivals I visit as a critic. The combination of those two activities offers me an extra focus and concentration.

I find learning processes particularly interesting. This fascination is inspired by the systematical thinking of the anthropologist, biologist and cybernetic Gregory Bateson. I 'm not talking about the schoolish, but about the 'natural' learning processes, like learning how to ride a bike, how to drive a car or how to play the violin.

You can't learn these skills from a book; practicing and molding yourself is your only option.

Together with philosopher Frits Smeets I have written a book on this issue: 'Ideale fouten & foute idealen', published by Contact in 1997."
---

Next CZ newsletter
The next Concertzender newsletter will be published in June.
Keep an eye on » our website for the latest news.
---
Help us to keep broadcasting
Are you a fan of the Concertzender but not yet a donor?


» sign up as a donor or » make a contribution.
Depending on the amount you donate you will receive:
a tour of the studio and the office
a CD made by the Concertzender with Young Dutch Performers
2 tickets for the annual special concert with a lecture
Are you already contributing, but do you know people who aren't supporting us yet?
» sign them up for our newsletter and inform them of the various ways to donate.