Dear reader,
There is news in both a major and a minor key in this newsletter.
Let's start with the 'minor key' news. You have probably read about it: Gustav Leonhardt has passed away. On Sunday, February12, Concertzender commemorates this great Dutch early music pioneer with a special broadcast. You can read about this further on.
The good news is that Concertzender has released a new CD.  And even better: you can win it! All you have to do is provide the correct answer to our prize question in order to have a chance at winning this unique prize.
And there is more good news: our broadcasting schedule will become more transparent from February 6 onwards. Read more about it in this newsletter.
In 'Introducing…' meet program maker Martijn Comes.
And last but not least we have a golden tip from our early music department about a new CD release by a new French label which will be aired in our program, Nuove Musiche.
Pleasant reading!
Concertzender
---
In memoriam Gustav Leonhardt,
early music pioneer
On Monday, January 16, one of the greatest names in the early music world passed away: Gustav Leonhardt, the Dutch harpsicord player, conductor and organist. Irene Stolp, coordinator and program maker, is compiling an in memoriam program. This will be aired on Sunday, February 12 from 03.00 to 05.00 pm CET.

Leonhardt (1928-2012) was passionate about historicallycorrect early music performance. He was convinced that early music should be played on instruments which were used during the time of composition. He was one of the first to put this into practice and thus set the standard for what was to come.
Bach-cantatas
His most famous project as a director began in 1968. Together with the Austrian Nikolaus Harnoncourt he made the first integral lp recordings of Bach's complete (more than 200) cantatas.
Universal praise
In 1999 Leonhardt received a classical Edison for his entire oeuvre.  The jury called him a living legend during this occasion. In 2009 he received the medal of honour for the arts and sciences from Queen Beatrix.  He also received several honorary degrees, including one from Harvard University.
In Amsterdam, Leonhardt was the organ player of the Nieuwe Kerk and taught at the Sweelinck Conservatory. In addition, he regularly performed live. Due to his failing health he recently had to cease performing. He gave his last recital on December 12, 2011 in Paris.
L'Esprit Baroque
The in memoriam broadcast by Irene Stolp about Leonhardt will also be the 1st episode of a new monthly program with baroque music:  'L'Esprit Baroque'.
»read more about the broadcast in which we commemorate Gustav Leonhardt
---
New broadcasting schedule starting February 6, 2012
From the 6th of February onwards, Concertzender will have a new, more modern and extensive schedule.  We have decided to re-organize the programs so that they will be more  logically integrated into the daily programming.

In addition we are happy to announce three new programs:
Cantina Brazil: contemporary Brazilian music
New Releases: new world music CDs 
Crystal Clear: contemporary electronic ambient
Clear weekly layout
We will slowly but surely change from the classic vertical programming to a more horizontal line. This entails that on weekdays during the day we will play more classical music and in the evenings more jazz, world music and pop. Classical includes early music, opera, contemporary music and cultural interfaces.
Saturday will largely feature jazz, world music and pop. Sundays will once more place the emphasis on classical music.
Supple transitions
An important reason for this change in format is that the old way of programming sometimes resulted in radical transitions from one type of music to another.  Until now, all styles of music could, in principle, be broadcast in one day. There was a good chance that you would be listening to a string quartet playing Haydn at 01:53 pm, which would then lead to an abrupt transition: electronic avant garde music with psychedelic touches from Russia at 02:01 pm.
Both have a legitimate existence at Concertzender, but not in that listening order. Surprise is a key element at Concertzender, but we do not wish to estrange the listener, you, from us.
Flexible schedule
And yet there are enough moments in which we can deviate from the new schedule. We have carefully checked whether jazz or world music prorgams will occasionally fit into the daily scheduling and that is the case.
Accessible programming
For our long-time fans that will take a bit of getting used to, but we trust that you and new listeners will find your way to Concertzender more easily through this more logical profiling.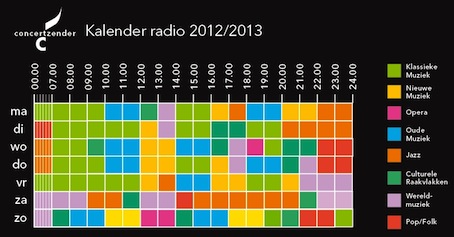 ---
Prize Question: win the brand-new Concertzender CD release!
At the end of January our newest CD was released as part of the series 'Concertzender Live', titled  'Concertzender in De Toonzaal'. The CD features everything from renaissance music to contemporary improvised jazz. The CD is available exclusively via Concertzender. Do you want a chance at winning this unique CD? E-mail us the correct answer to the questi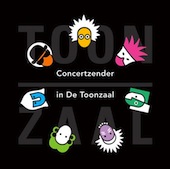 on below.
The new CD features recordings of the Matangi Quartet and the Amstel Quartet. Both Dutch top ensembles were 'ensemble in residence' in De Toonzaal for 3 years each. Which Dutch musician is 'in residence' in De Toonzaal at present?
What can you win?
The brand-new Concertzender CD release, 'Concertzender in De Toonzaal', featuring:
Oleg Fateev (bayan) | 'Herfstdroom' by O. Djois / arr. Gregori Sjenderjov
Matangi Quartet (string quartet) | Meditation about an ancient Czech hymn 'St. Wenceslas' Op. 35a | Josef Suk
Reinbert de Leeuw (piano) | In the mist (4 parts) | Leoš Janáček
Ensemble 'La Primavera' | Orlando di Lasso / Giovanni Bassano | Susanne ung jour
Quatuor Danel (string quartet) and pianist Frank Peters | Alfred Schnittke | Piano quintet part II. In tempo di valse
Ernst Reijsiger (cello) and Harmen Fraanje (piano) | Harmen Fraanje | Ballad
Raed Khoshaba Shammon (ud) | Traditional from Iran | Maqam al lame
Duo Dubbelduet (celli) | Paul Frankhuijzen | Fantasia
Amstel Quartet (saxophones) | Max Knigge | Sonnet
Marijke van Kooten and Heleen Hulst ( violin) | Béla Bartók | duos
Theo Loevendie (soprano saxophone), Jeroen van Vliet (piano) and Onno Govaert (drums)  Improvisation
How to win?

 
We will chose the winners from the submissions with the correct answers per lottery draw. We will reveal  the winners 14 days after the appearance of this newsletter:
in an email to the winners
via a news bulletin on  » our website
in the March newsletter in the new prize question column.

---
Nuove Musiche presents a very special CD
Sunday Feb. 5 and Monday Feb. 6 a very special CD with early music will be featured in  'Nuove Musiche'. It is the 1st release of a brand-new French label exclusively featuring early music: AgOgique.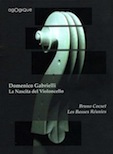 De CD is titled 'La Nascita del Violoncello' and contains 17th century compositions by Domenico Gabrielli and two contemporaries, played by cello player Bruno Cocset and his ensemble 'Les Basses Réunies'. Cocset plays low string instruments built by Charles Riché, which are like those used during the time of the compositions (around 1689).
These instruments include several violoncelli, a tenor and bass violin, and an alt violin: 'Bettera'. This last instrument is somewhere between an alt violin and a gamba, and is named after a painting by Bettera.
New broadcasting schedule
On Monday, Feb. 6 our new schedule starts. That is why, as an exception, our early music program Nuove Musiche will take place on Sunday Feb. 5 and Monday Feb. 6. After that, Nuove Musiche will be aired on Monday nights only.
Part 1 of the CD 'La Nascita del Violoncello' will be aired on Sun. Feb. 5 from 02:00 to 03:00 pm CET.

» check the program guide for more information about part 1
Part 2 will be broadcast on Mon. Feb. 6 from 06:00 to 07:00 pm CET
 
» read more about part 2 in our program guide
---
Introducing…
Martijn Comes – program maker
"I hope to add something unique to Concertzender, and thus create a unique sound that adds a bit more colour to society. Good, quality music is essential, and all people from all walks of life should have access to it."

"At Concertzender I make two programs: 'Kraak Helder' and 'Inventions for Radio'. 'Kraak Helder' concentrates on contemporary innovative, electro-acoustical music productions. I sometimes mirror those to productions from the past.
'Inventions for Radio' is so-called concept radio, in which the broadcasting of sound is raised to an art form.  Every month we provide media artists, composers and poets with one hour of 'live' national broadcasting time. They can then make a program in which we ask them to think about radio:  

what does radio mean?
what is its added value?
how can I optimally use this medium?
In this way I hope to add depth to the medium of radio, to honour it and to give it a bit more added value. "
Composer
I studied composition at the conservatories of Utrecht and Amsterdam. I still compose electro- acoustical music, which I can do in my attic studio.
Versatile at Concertzender
"I came to Concertzender a year ago via an ad at the volunteer's centre. I started as technician to get a feel for the 'groundwork'. After that, I was quickly able to make myself useful as a recording coordinator, which I did with much love.  I quickly started getting ideas for my present programs.
I am very taken with the mentality at Concertzender. The station thanks her long and illustrious carrier to her slightly stubborn character with a sterling sense of dynamics and originality. I hope to be able to make programs for Concertzender for a long time to come!"
» read more about the radio program 'Inventions for Radio'

---
Next newsletter
The next Concertzender will appear in March.
Keep an eye on  » our website for the latest news.

---
Help us to keep broadcasting
Are you a fan of the Concertzender but not yet a donator?
» sign up as a donator or » make a contribution.
Depending on the donated amount you will receive: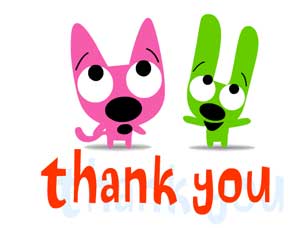 a tour of the studio and the office
a CD made by the Concertzender with Young Dutch Performers
2 tickets for the yearly concert with lecture
Are you already donating, but know people who aren't supporting us yet?
» sign them up for our newsletter and inform them of the different ways to support us.