Dear reader,
Are you familiar with our program 'Wind Vibes' which we have been airing since Jan. 2011? Read about this program and its maker in this newsletter.
In 'Introducing', meet the author of our newsletters, Hieke van Hoogdalem.
The 'Prize Question' column offers you yet another opportunity to win a CD if you can correctly answer the prize question. Featuring a CD with works by Korngold.
We wish you pleasant reading!
The Concertzender
---
New program: 'Wind Vibes'
We have been airing the program 'Wind Vibes' since Jan. 2011. This program focuses on music for wind instruments, as the title implies.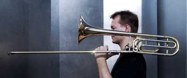 The maker of 'Wind Vibes' is Twan Dubbers, a wind player in heart and soul. He plays trombone in the Residentie Orkest, is artistic leader of the Amsterdam Wind Orchestra and programmer of the concert series, 'Blazen in de Beurs' in Amsterdam.
 
In'Wind Vibes', Twan delves into the repertoire of wind players to find the most interesting and beautiful music. This leads to a wide variety of music, from brass quintets to wind bands and from Renaissance music to the most contemporary compositions. Until the summer holidays, the episodes of the program will usually pertain to an important musical period or to relevant composers in the development of music for wind players.
 'Wind Vibes' will be aired:
Every 1st and 3rd Wednesday of the month
10:00 – 11:00 pm CET
'Wind Vibes' continues in the vein of 'The Musician,in which the Concertzender previously focused on music for wind orchestras.
» listen to previous broadcasts of  'The Musician'
Why 'Wind Vibes'?
The world of symphonic wind bands, fanfares en brass bands is unfamiliar to many music lovers. Twan Dubbers thinks this is a shame because the intense contact between performers and living composers is found almost nowhere else. Nowhere else does contemporary music reach such a diverse public and are the boundaries of the instrumental possibilities of wind instruments and percussion so elastic.
Not only the iron-clad repertoire of wind orchestras but also the most contemporary compositions have a great deal to offer the listener. 'Wind Vibes' gleans out the best repertoire and places this in a broader musical context.
» listen to earlier episodes of 'Wind Vibes'
---
Introducing…Hieke van Hoogdalem – author newsletters CZ

"I am the author of the monthly newsletter, which the Concertzender (CZ) has been publishing since July 2010. To facilitate this I gather information pertaining to all things CZ from my collegues. They are the authorities on all things CZ. For example: 'Prize Question', this column, and news about concerts and broadcasts.
I came to the CZ via LinkedIn. In Nov. 2009 there were problems at the CZ. An appeal for help was posted on LinkedIn. I came to a meeting about the restart of the CZ and was set to do editorial work. That didn't happen but half a year later Sem de Jongh (present director of the CZ) called to ask if I would come on board. I joined the editorial department and the newsletter was born."
Classical music in the blood
"Classical music plays a major role in my life. I trained as a music teacher at the conservatory of music in Utrecht and also studied musicology.
I started making music at an early age: I sang in choirs, and between my fourth and fifth year I played violin and recorder. I then turned to cello. I have also studied contrabass and djembe. Basically I love all things music, making it, listening to it and writing about it.
Baroque music and works from the Vienna classical period often peal out of my speakers. Well known compositions, but also works by the lesser known Kraus, Kozeluch and Stamitz. And the string symphonies by Mendelssohn – such marvelously original works!"
Writing and editing, preferably about music
"After my studies I became a correspondent for a local newspaper. In 2008 I was the editor of that paper. Until June I am content manager for the Dutch Heart Foundation. I am looking for other work as editor, editor-in-chief, web editor, or music journalist.
I reviewed CDs for Klassieke Zaken and I occasionally review scores for the FASO to ascertain their suitability for amateur ensembles. I was also editor-in-chief for the online magazine 8WEEKLY. Last but not least, I am the author of the monthly newsletters of the CZ."
 
No time for boredom
"I also love to take photographs (see » www.hiekevanhoogdalem.nl at Portfolio > Fotografie), take great pleasure in walking in the mountains with my husband and devour books. Since Aug. 2010 I own an eReader; what a great invention! My bookcase stays tidy and my bag is imperceptibly filled with books. I carry only 250 grams with me and yet can dive into a new book without having to drag along a heavy bag of them.
I also love to play in ensembles. I am a member of the Purcell Chamber Orchestra in Amsterdam and have played in, among others, the Arezzo Ensemble in Utrecht and in summer orchestras in the capital city. But because this is rather far from where I live in Oegstgeest, I wanted to play locally. I couldn't find what I was looking for in Leiden, so together with a friend I started the » Leiden String Orchestra. On May 27, 2011 we gave our first concert.  And on the 29th I sang in the small choir of the Missa Scala Aretina, a work for 4 choirs by Francesco Valls which we performed with a project choir and an ensemble during the final concert of the early music festival in Hoorn."
---
Prize Question
Answer the following question correctly and you might win a CD!
 
The winner of the former prize question is Enzo Bizzotto. The question was twofold:
what is the name of the journey on foot which pilgrims make to Santiago de Compostella?
what do they wear which makes them recognizable as pilgrims of this route?
The right answers:
camino de Santiago
a scallop shell
New prize question
For what in particular is the composer Eric Korngold renowned?

What can you win?
a CD by Eric Wolfgang Korngold with his symphony in F# opus 40 and theatre music for 'Much Ado About Nothing', opus 11
performers: Orchestre Philharmonique de Strasbourg led by Marc Albrecht
on the Pentatone label
How to win?

We will make available per lottery one CD for those who send in the correct answer. The winner will be announced 14 days after publication of this newsletter via:
an e-mail to the winner
a news bulletin on » our website
in the next newsletter in the Prize Question column
This column is made possible by various record labels. They provide the winning CD's DVD's and concert tickets. This time the Pentatone label was so generous as to provide us with a CD.
---
September newsletter
The next Concertzender newsletter will appear in September.
Keep an eye on » our website for the latest news items.
---
Help us to stay in the air

Are you a fan of the Concertzender but not yet a donator?
» sign up as a donator or » make a contribution
Depending upon the amount donated you will receive:
a tour of the studio
a CD with recordings by the Concertzender of Young Dutch Performers
2 tickets for the yearly concert with lecture
Are you already a donator but do you have friends, acquaintances or family who are not?
» sign them up for our newsletter and tell them about us and the different possibilities for donating.