Readers, listeners,
"This will be our reply to violence: to make music more intensely, more beautifully, more devotedly than ever before."

Leonard Bernstein (1918-1990).
---
Competition
This month you can win a DVD with a performance of Bach's Matthäus Passion.
To win this you have to know the correct answer to our competition.

Last month's question
The question of January was: With whom did Victor Suslin form the musical ensemble Astrea? Together with Sofia Gubaidulina and Vyacheslav Artyomov. The winnaar is: A. Vile.
Congratulations!
This month's question
The competition question of February is .....
---
A new The Musyck Room
On Saturday afternoon 27 February The Musyck Room, our live programme
featuring early music, will open again and you can join us!
The recordings will take place from 14:00-16:00 CET at the Dekenkapel of the Pieterskerk in Utrecht. This edition of The Musyck Room will primarily centre around the recently deceased Louis Peter Grijp. We have found members of Camera
Trajectina who are willing to talk about Louis Grijp and his work. They would also
like to perform something live.

New CDs
Further we will receive young musicians who
have recently or will soon release CDs. The trio Fantasticus with violinist Rie Kimura has got the stylus fantasticus of the late 17th century as her main inspiration. In February this ensemble is going to release two CDs: Tartini & Veracini and Bound to Nothing.
---
CD of the Month
This time the choice has been made by
Guy Livingston (see: Introducing…). His preference went to: Scrapyard Exotica by
the Del Sol String Quartet [Label: Sono Luminus DSL-92193] with music by Mohammed Fairouz, Ken Ueno and Mason Bates.
About the CD he says: "The Del Sol String
Quartet releases Scrapyard Exotica, featuring three premiere recordings by a triumvirate of today's hottest composers. New works by Mason Bates, Ken Ueno, and Mohammed Fairouz, two of which were written specially for this quartet."
---
The Real Chopin!
The works by Frédéric Chopin are central in
a series of 24 episodes. Though we are not going to listen to this piano music on
Steinway grand pianos, but on historical fortepianos in the days of Chopin, which
makes us go back to Chopin's musical world.

Since 2005 The Fryderyk Chopin Institute
in Warsaw has begun to release a series of approximately 30 CDs. From this series we
have made a wide selection so you can listen to how Chopin sounds on historical fortepianos.

Prizewinners
The institute has used three historical forte-
pianos for this series: the Erard from 1849, the Pleyel from 1848 and since 2010 the Erard from 1838.
---
The Netherlands Violin Competition
The preliminary rounds for the Netherlands Violin Competition have started
on 9 January in Utrecht. Gifted violinists from the age of 6-26, divided into
three age categories present themselves to a jury and audience.


After nearly 80 performances during the preliminary rounds at the HKU University
of the Arts Utrecht, the competition will continue at TivoliVredenburg. During the semifinals, the talents will present a personal programme, afther which the
remaining contestants will compete for the coveted titles.


The Concertzender has recorded the preliminary rounds on 23 and 24 January
and the semifinal on 30 January. We will also record the final afternoon on
Saturday 6 February at TivoliVredenburg.

For more information about dates, timetables, seats and tickets, go to: vioolconcoursen.nl
---
Acoustic Roots: Babak-o-Doestan
On Friday 19 February from 21:00-22:00
CET the ensemble Babak-o-Doestan is guest
in the programme Acoustic Roots. The recording will take place at the Pieternel of
the Pieterkerk in Utrecht.

Babak-o-Doestan is an ensemble conducted by Babak Amiri and is based in Amsterdam. The musicians come from three different continents and their music forms a natural bond between
East and West.

They bring an exotic mix of jazz, fado, Turkish, Balkan and Iranian musical styles. What is special about this group is the diversity of instruments: Spanish guitar, daf, cajón, cello, bass guitar and piano.

Teamwork

Striking is their high level of teamwork onstage. The musicians of Babak-o-Doestan
are not only there for themselves, but also to deliver a performance as a whole. So
the name Babak-o-Doestan (Babak and Friends) completely suits this group.
---
Concertzender Live with Early Music Festival 2015: Vox Luminis
and Gli Incogniti
In Concertzender Live on Thursday 11 February (20:00 - 22:00 CET) you can listen to two concert recordings of the Early Music Festival 2015. By artist in residence Vox Luminis and by Gli Incogniti with violinist Amandine Beyer.
Vox Luminis conducted by Lionel Meunier performed the programme Light and Shadow: Anthems at the Pieterskerk in Utrecht on 2 September 2015. Featuring Latin and English motets and anthems by Thomas Tallis and his Anglican colleagues including White, Sheppard
and Weelkes.
The other concert recording is from the concert
by Gli Incogniti with violinist Amandine Beyer.
---
Introducing… Guy Livingston
"I've been a fan of Concertzender for many years. I was born in Tennessee, and
came to Europe in 1992 to study piano. When I played in the Gaudeamus per-
former's competition, I met several recording engineers who became friends,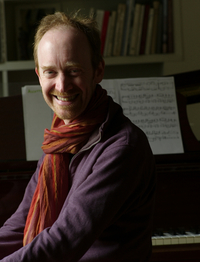 especially Kees van der Wiel. And so I knew
about the radio, and enjoyed the fresh approach
to contemporary music, and the positive energy
of the station."
Intimate connection
"I love doing radio - there is an intimate connection with the audience, which is very different than the connection in live performance. You can take time and slow things down behind the microphone in a way you can't do in front of
an audience. But I still love to be onstage, and if you're in Rotterdam on the 21st of February, you can hear me performing at de Doelen (with minimalist music of Simeon ten Holt and
Alexander Rabinovitch)."
---
Next newsletter
The next newsletter from the Concertzender will appear in March.
In the meantime, go to » our website for the latest news.
---
Help us to continue broadcasting
Are you a supporter of the Concertzender but not yet a sponsor?
» register as a sponsor or
» make a donation.
Dependant on the amount of the donation you will receive:
a guided tour of the studio and a chance to meet the programme makers
a CD from the Concertzender featuring Young Dutch Performers
2 tickets for our annual concert and presentation
If you are already a sponsor, perhaps you have friends or colleagues who would also be interested in supporting the Concertzender.
» register your friend for our newsletter and inform him or her of the possibilities to sponsor the Concertzender.