Readers, listeners,
"Where words fail, music speaks"

Hans Christian Andersen, Danish author (1805-1875)
---
Competition
This month you can win a CD with Anton Bruckner's Symphony no. 4 in E-flat, the Romantic symphony, if you know the
correct answer to our competition question.
The symphony is performed by the Orchestre de
la Suisse Romande conducted by Marek Janowski and the CD is issued on the Pentatone label.
The question in August was: to whom did Robert Schumann dedicate his piano trio opus 110? The correct answer was: Niels Gade. The winner of
the CD with Schumann's piano trios was B.
Jaasma from Leeuwarden. Congratulations!
---
Concertzender at November Music 2015
This year the November Music festival in Den Bosch takes place from November 4th to November 8th. The festival started in 1993 and has since grown to become one of the most important festivals of contemporary music in the Netherlands. The Concertzender will again be present at the festival and will be recording many of the concerts for future broadcasts.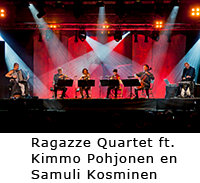 Step Across the Border is the title of a film made
in 1990 about the guitarist Fred Frith, a full three years before the first edition of November Music. Now, 25 years later, this is still a perfect description of November Music: music made by important artists that operate across the borders defined by musical genres.
For example, Arvo Pärt and Helmut Lachenmann, two major names in contemporary music who
have much in common but make music that sounds so completely different.
Or the Asko|Schönberg, the internationally reknowned ensemble, who are the ensemble
in residence during the festival and will be perfoming four concerts.
---
Clastrier and Kamperman in Acoustic Roots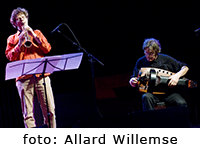 On the 16th October 2015 the Duo Valentin Clastrier - Steven Kamperman were the
guests in Acoustic Roots at the Pieternel
of the Pieterskerk in Utrecht. They have
their own unique approach to traditional European drone music. The concert will be broadcast on the 20th November at 21:00 CET.
The French hurdygurdy superstar Valentin
Clastrier has been a duo with Dutch windplayer Steven Kamperman for a while. Thier first album will appear at the end of this year. Together they make a surprising couple who use simple instruments to produce exciting modern sounds.
---
A new series of jazz concerts from Tivoli Vredenburg
A new series of jazz concerts starts on the 14th November. The series is
called CloudNights and is produced by the Concertzender together with
U-jazz from Utrecht.
The concerts take place
every Friday in Tivoli Vredenburg.
The CloudNights are held in Club Nine, a small
hall on the top floor of the Vredenburg music centre. The performers are small ensembles
and sometimes will be ad-hoc groups brought together by a Utrecht musician especially for
the concert.Unique performances is an intimate location: recommended!
First broadcast: 14 November 19:00-20:00 CET.
---
The recorder in the spotlights in Concertzender Live and Nuove Musiche
During November the Concertzender will be giving a lot of attention to
concerts and CDs featuring recorder music. Well-known recorder players
such as Erik Bosgraaf, Maurice Steger and Dorothee Oberlinger can be heard
in Concertzender Live, and in Nuove Musiche you can listen to new CDs with recorder music.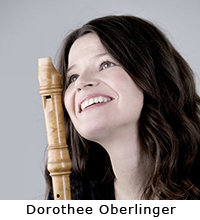 In Concertzender Live on Thursday 29th October (20:00-22:00 CET) we broadcast recordings of
the concerts by Erik Bosgraaf & Cordevento and
La Sfera Armoniosa with recorder player Reine-
Marie Verhagen.
In January 2014 Erik Bosgraaf & Cordevento played Vivaldi's Four Seasons in the Toonzaal
in Den Bosch, adapted for recorder and a small ensemble.
Another recording was made during the Reincken Festival of 2013 in Deventer. La Sfera Armoniosa played a concert called Mille Regretz, with 16th- and 17th century Italian music by among others Rognoni, Bassano, Ortiz, Kapsberger and Vitali.

Repeat: Friday 6 November 15:00-17:00 CET.
---
Highlights from Concertzender Live in November
Which live concerts should not be missed in November? Below you can
find some recommendations from the concerts that will be broadcast in Concertzender Live during November, together with some concerts from
last month that can still be heard via Radio on demand.
6 November 15:00 CET: Part 1 of the concerts with record players with Erik Bosgraaf & Cordevento and La Sfera Armoniosa with Reine-Marie Verhagen.
12 November 20:00 CET: Part 2 of the concerts with recorder players with Maurice Steger and Dorothee Oberlinger.
Radio on demand from October:
22 October: Peter de Grote Festival 2015; Prins Claus Conservatorium in Groningen; 22 July 2015 / Raphael Wallfisch and John York; Kleine Zaal Concertgebouw Amsterdam; 4 August 2015. Listen to the broadcast here.
17 October: The Polish singer Wojciech Myrczek (1987) is not yet so well-
known in Europe, but that will hopefully be changing soon. He has a
powerful voice and is also an excellent improviser with existing material,
that includes pieces from McCoy Tyner, Thelonious Monk, James Moody
and Dizzy Gillespie. This recording with his quintet was made in June 2010
in Den Haag. Listen to the broadcast here.
---
Next newsletter
The next newsletter from the Concertzender will appear in December.
In the meantime, go to » our website for the latest news.
---
Help us to continue broadcasting
Are you a supporter of the Concertzender but not yet a sponsor?
» register as a sponsor or
» make a donation.
Dependant on the amount of the donation you will receive:
a guided tour of the studio and a chance to meet the programme makers
a CD from the Concertzender featuring Young Dutch Performers
2 tickets for our annual concert and presentation
If you are already a sponsor, perhaps you have friends or colleagues who would also be interested in supporting the Concertzender.
» register your friend for our newsletter and inform him or her of the possibilities to sponsor the Concertzender.