Readers, listeners,
'Music is a moral law. It gives soul to the universe, wings to the mind, flight
to the imagination, a charm to sadness and gaiety and life to everything.'
Plato (427 – 347 BC), Greek philosopher and writer.
---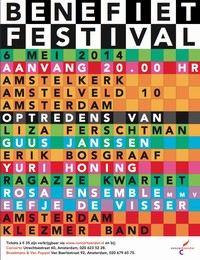 Benefit Festival 6 May
Our thanks to our many supporters
who came to the benefit Festival.
---
Competition
This month you can win a CD box set by Youri Egorov if you know the correct answer to our question.
The question last month was: To whom does Gregorian music owe its name and
in which period was it made? The correct answer is Pope Gregory I, who was also known as Gregory the Great (590-604) and Gregorian music was introduced in the 9th century.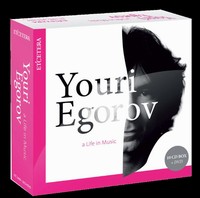 The winner is Ko Joosse from Rotterdam. He wins the double CD 'Imago Christi - Images of Christ in Gregorian Chants', performed by the Schola Cantorum Karolus Magnus conducted by Stan Hollaardt [Brilliant Classics BC 93001].

This month's question

Who wrote a novel about the pianist Youri Egorov and what is the title of that novel?

What can you win?

This month you can win "Youri Egorov- A Life in Music", a box-set with 10 CDs and a DVD on the label Et'cetera (Et'cetera KTC 1469).
---
New on the Concertzender: Acoustic Moods
Acoustic Moods is a new programme in which Charlie Crooijmans and Karin van den Boogaert look at the latest trends in World music.
Charlie Crooijmans is a musicologist and music journalist. She has been working for the Concertzender and VPRO/Radio 6 for many years. Currently she also publishes interviews and reviews on MixedWorldMusic.com, World Music Forum and Eigen-
tijds (Radio 4); in addition she also produces reports for Jungeltelegrafen (NRK).
Her blog, News and Noise!, considers music and other forms of art from a socio-
logical and political perspective.
The first episode of the programme 'Acoustic Moods' is broadcast on Friday 23 May 21:00 – 22:00. Charlie will present music from the recent Babelmed festival and
will also be giving her tips for other festivals taking place this summer.
The next episode of Acoustic Moods is 29 August 21:00 – 22:00.
---
Malando in Concertzender Live and Exitos Musicales
Malando died in 1980 but many of his compositions are still played regularly
by tango orchestras all over the world. In the Netherlands, his grandson
Danny is keeping his name alive with his own orchestra. But some of his compositions, such as 'Castellana Suite', 'Los Ríos', 'Recuerdos de Buenos
Aires' and 'Cordilleras de Los Andes' are threatened with obscurity. Even Malando himself performed them only a few times for the radio.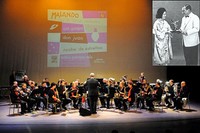 The Concertzender broadcast a 12-part series about Malando in 2009. At that time, we did not expect to be surprised by a performance of a then unknown work, the Suites, a composition that makes such demands that it had never
been issued on record.
That was until the well-known 40-man strong Fanfare orchestra Pius X from Poeldijk took an interest in performing these pieces, in a version by the conductor Geert Schrijvers, in Theater De Veste in Delft. During the concert, Malando's life story was also told in words and images by Bas Liebeek.
---
Opera en concert trips – Hannick Reizen
Would you enjoy listening to classical music in special locations all over the world? Hannick Reizen offers the opportunity to combine your interests for travel and concerts.
Visit the best festivals and the major opera houses, both in Europe and in the rest of the world. Let yourself be enchanted by the music and the atmosphere during these top class performances.
Interested?
Hannick organises trips for groups and individuals. Take a look at the website or order the brochure with more than 80 culture and music trips via this link.
---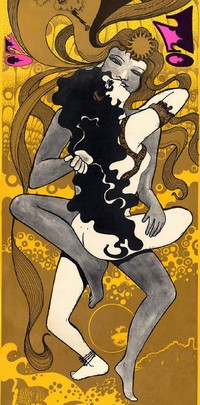 Psychedelica theme night
On Wednesday 28 May we are presenting
a theme night from 21:00 to midnight about psychedelica in contemporary music, our last live broadcast from Conclusion in Utrecht.
Our special guest is Dennis Duijnhouwer from the Amsterdam psychedelic doom-metal band Mühr.
Psychedelic sounds have been used in music
for many years. In the 1960s and 1970s they were a hype, particularly during the period of
the Flower Power movement on the West
Coast of the US, which peaked during the 'Summer Of Love' ('67/'69). They were also frequent multi-media happenings from 1966
in the Roundhouse in London and in the scene around the UFO Club.
Guitar effects, such as feedback, wah-wah and distortion, were typical for this period. Studio effects such as playing tapes backwards, long tape loops, echo and exotic instruments with a strong preference for the sitar and tabla were also introduced.
---
Next newsletter
The next newsletter from the Concertzender will appear in June.
In the meantime, go to » our website for the latest news.
---
Help us to continue broadcasting
Are you a supporter of the Concertzender but not yet a sponsor?
» register as a sponsor or
» make a donation.
Dependant on the amount of the donation you will receive:
a guided tour of the studio and a chance to meet the progamme makers
a cd from the Concertzender featuring Young Dutch Performers
2 tickets for our annual concert and presentation
If you are already a sponsor, perhaps you have friends or colleagues who would also be interested in supporting the Concertzender.
» register your friend for our newsletter and inform him or her of the possibilities to sponsor the Concerzender.