100 years of electronic music
100 years ago Luigi Russolo (1883-1947) claimed in his manifesto 'The Art of Noises' that in the future both natural and industrial sounds could be part of a work of music. For these ideas he gathered together a group of likeminded futurist artists and composers early in the previous century. The Concertzender pays homage to a century of electronic sounds.
It was the beginning of a period in which industrial and electronic sounds became more important in the world of sound art. Now, 100 years later, the Concertzender focuses on the major electronic works that have sprouted from this era.
Russolo himself had already invented an instrument to produce these industrial sounds: the intonarumori (in picture).
Final list electronic music
In 2013 we present works that are nominated for a final list, as it were, to be announced at the turn of the year 2013-2014. These works will be broadcast in the following programs:
X-Rated
Popart
Electronic Frequencies
230 Volt
Thema
De Vorige Eeuw
Pakrammel
Your input
In compiling the list it's not only important what we, as producers, propose. More important is the input we get from you, the listeners.  That is why we invite you to listen and share your experiences and highlights from the past of electronic music with us.
» Follow our news in 2013 through Facebook. Leave your messages on our Facebook page or » send an e-mail to our editor Hessel Veldman.
 
Our output
A number of programs and series from 2012, featuring monumental electronic works can be heard on demand. This may tempt you to send us a reaction, en experience or a proposition.
We are looking forward to your ideas and reactions!
---
Discount on concert tickets Orchestre des Champs-Elysées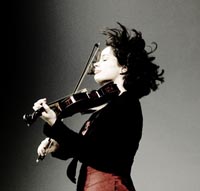 Vredenburg, one of our partners, offers a discount on concert tickets every month for readers of the newsletter. On Sunday 17 February you may enjoy a discount on the concert by the Orchestre des Champs-Elysées, accompanying violinist Patricia Kopatchinskaja (in picture).
The program consists of two works by Ludwig van Beethoven: his Third Symphony and his Violin Concerto. Soloist is Patricia Kopatchinskaja.
The composer wanted to dedicate this symphony to Napoleon, but decided not to, when he heard that the French general had crowned himself emperor.
The Parisian Orchestre des Champs-Elysées has quite a history at Vredenburg. In 2005 the orchestra recorded Bruckner's Seventh Symphony at the hall. This recording received favorable reviews both at home and abroad. At the February concert the orchestra will perform Beethoven's Third Symphony, the Eroica.
Concert information
Orchestre des Champs-Elysées
Philippe Herreweghe - conductor
Patricia Kopatchinskaja - violin
Beethoven: Violin Concerto
Beethoven: Symphony Nr. 3, 'Eroica'
Offer
Sunday 17 February
15.00 hrs
Vredenburg Leidsche Rijn
You pay € 28,50 instead of € 34,50
The offer is open from 1 through 17 February; a maximum of 4 tickets per order. There are 50 tickets available.

» read more about the concert at the Vredenburg site
» order your tickets through Vredenburg.nl and use the offer code 0217.
Order soon, while stocks last!
Photograph: Marco Borggreve
---
Introducing…
Arthur Olof – program maker new music
Arthur Olof is program maker new music and secretary of the board. As a program maker he has been making two series for a number of years:
Oorgetuige, with 20th century Russian music
Perestrojka, featuring works that were composed around the remodeling (perestroyka) and the collapse ('destroyka') of the Soviet Union
Pioneering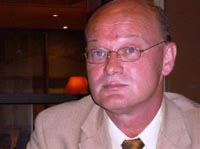 "I started at the Concertzender in 1982, having filled in a coupon that came with a blue leaflet. At the time I was studying Dutch at university, so I had enough spare time. After my application as a volunteer the founders, Hans Frankfurther and Jan Wolff asked me to develop a monthly program guide. It ran for a number of years, but had to stop because of a lack of funds.
In the early days at De IJsbreker we had some wonderful pioneering years, with great, enthusiastic and talented people. In addition to editing the guide I performed board and direction duties until I started an internship at the arts section at NRC Handelsblad (newspaper) in 1988, and graduated soon after."

Olof came back on board in 2008 when the Concertzender was removed from the national public radio system and continued on its own - first in Amsterdam and now in Utrecht. He was working on a project on his hero, the Russian composer Dmitri Shostakovich. "As far as I'm concerned he is one of the greatest composers of the 20th century, since he managed to continue developing his own musical language under the Stalin regime. His oeuvre only became deeper and grander."
During an anniversary broadcast Arthur spoke enthusiastically about this project, and coordinator Kees van der Wiel asked him to become a program maker. Arthur: "I said yes, and embarked on a wonderful journey that continues to this day."
Making programs
      "I like to make programs for the Concertzender, because we broadcast complete and rarely heard works, with a minimum of spoken word. I enjoy compiling these programs, writing the program notes for the presenter and for the program guide on the website, as well as filling in the forms for the engineers.
The Concertzender is a music station as it should be. Fortunately I'm not the only one who seems to think so, for we have many donors and listeners. At the funeral of my father, the violinist Theo Olof, in October of last year, I said that we wanted "a local music station without all this talk". And that is exactly what he promoted as a member of the committee of recommendation for the Concertzender."
Busybody
      "After my graduation I worked at the Dutch branch of Amnesty International, as editor in chief for D66 (political party) and as communications manager at the ING Groep (bank and insurance group).
In addition to this I've always had my own company too: PlaatsTaal Tekstbureau. My programs for the Concertzender combine some of my old loves." Arthur is referring to his love for:
the Russian language
literature
music
visual arts
film
history
Before I started my studies of Dutch I studied Slavonic languages Leiden University for a number of years, with Karel van het Reve and others. In 2008 I was in St. Petersburg to refresh my knowledge of Russian and came into contact with the composer Boris Tishchenko, a student of Shostakovich. His beautiful works were included in Oorgetuige.  
In a distant past I played the oboe and the piano both at an amateur level. It wasn't up to much, I'm afraid."
---
CD of the Month: '1941-1945. Wartime music, vol.5'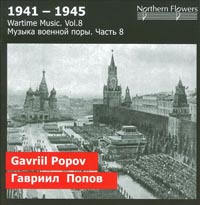 The CD of the month is '1941-1945. Wartime music, vol. 5'. The record label Northern Flowers, presents the album with a subtitle: 'From the St. Petersburg musical archives', and it contains many works never recorded before. The Concertzender will present some of these recordings in its series 'Oorgetuige'. The first episode will air on Monday 11 February between 20.00 and 22.00 CET.
Program maker Arthur Olof: "This episode concentrates on the Soviet Union on 22 June 1941, when Hitler's troops invaded the country. One of the more militant works composed during the war was Gavriil Popov's Second Symphony. He was a fellow student and contemporary to Dmitri Shostakovich. Fortunately the label Northern Flowers has released a recording of this 'forgotten' symphony. This work concludes Oorgetuige nr.55 on 11 February."
Tune and coincidence
Popov, incidentally, is also the composer of one of the first tunes the Concertzender used in the 1980s. Arthur Olof: "I heard this music for the first time in the attic of our founder Jan Wolff's house, above the IJsbreker. I also included that particular part of Popov's septet in an episode of Oorgetuige. The complete work was broadcast at a later moment. The septet was recorded for the old Russian state label Melodiya."
---
Insomnio with birdsong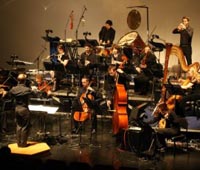 On Saturday 16 February the ensemble Insomnio will perform at Vredenburg and the Concertzender will record them. The program is entitled 'Gods Own Musicians'. Birds, 'Gods Own Musicians' according to Messiaen, are central in the program. Not only Messiaen was inspired by birdsong, but also composers like Harvey and Tiensuu.
Insomnio (in picture) started as a group of talented musicians with an international background in 1997. The ensemble likes to present surprising new works by young  composers. At the moment it is 'ensemble in residence' at Vredenburg.
Complex music made accessible
The musicians' approach, with their inspiring conductor Ulrich Pohl (in picture), gathers praise, for their enthusiastic and virtuoso performances. With great passion they make complex scores accessible to the audience.
Insomnio on air
A broadcast date for the Insomnio concert has not been set yet. Please check our website!

» check the Vredenburg site for more information about the concert
---
In the spotlights: composer Nodar Gabunia from Georgia
Three episodes of the series 'Perestrojka' include works by Nodar Gabunia (in picture). Who is this composer from the 'country that has been gone' and what is it that makes his works so special? We will lift a corner of the veil: Gabunia was an idiosyncratic contemporary composer and pianist who introduced modern works to Georgia in the 20th century.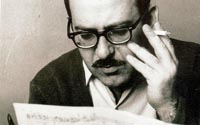 Nodar Gabunia was one of the first pianists in Georgia to perform works by modern composers like Bartók, and he also introduced the music of Kurtag, Berio and Stockhausen to Georgian audiences. He is described as "one of the most talented composers" of his generation. In Georgia his compositions can be heard on the radio at a weekly basis.

Composer, pianist and teacher
Nodar Gabunia gave masterclasses at the conservatories of Paris, London, The Hague and New O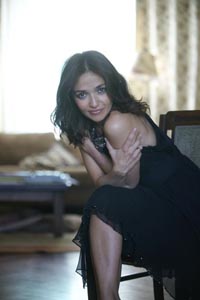 rleans, but he always returned to Georgia. He trained many remarkable and excellent pianists. In 2000 he died in Amsterdam, having received treatment for a serious illness. In Georgia his students started a piano competition bearing his name.  

His compositions
In this episode Gabunia's daughter Natalia (in picture), violinist with the Dutch Radio Filharmonisch Orkest, will perform the theme from her father's film score for 'The Story of Ivan Kotorashvili'. She will also perform the solo part in his Violin Concerto from 1981.
After this Nodar can be heard in his Second Piano Sonata. And finally there is the chamber music piece 'The Fable', which was awarded the UNESCO award. In this work Gabunia uses the rich polyphony of Georgian music, in which polyphonic singing is an important characteristic. It allows for splendid harmonies.

» listen at Concertzender.nl on demand to one of the programs with Gabunia's works

---
Prize question
This month's prize is a CD by Christianne Stotijn, if you know the correct answer to the prize question.
First of all we like to congratulate last month's winner. The question was: 'In memory of what event were the vespers on the prize CD written?' The answer is: in commemoration of the victory at Lepanto on 7 October 1571, in which the Venetians defeated the Turks. Floris Sirag from Groningen is the winner of the CD '1612 Italian Vespers', performed by I Fagiolini.
New prize question
The prize question is: 'How did Christianne Stotijn start her career?'
What is the prize?
This month's prize is Christianne Stotijn's album 'Stimme der Sehnsucht' on the Onyx label.
How to win:
We will raffle off the prize among the entrants with the correct answer. We will publish the result 14 days after the publication of this newsletter:
in an e-mail to the winner
in a news item on » our website
in the next newsletter in the prize question column
This section is made possible by various record labels. They offer us their CDs, DVDs and concert tickets. The Christianne Stotijn CD is donated by Klassieke Zaken.
---

Next newsletter
The next Concertzender newsletter will be published in March.
Check » our website for the latest news.
---
Help us to keep broadcasting
Are you a fan of the Concertzender but not yet a donor?
» sign up as a donor or » make a contribution.
Depending on the amount you donate you will receive:
a tour of the studio and the office
a CD made by the Concertzender with Young Dutch Performers
2 tickets for the annual special concert with a lecture
Are you already contributing, but do you know people who aren't supporting us yet?
» sign them up for our newsletter and inform them of the various ways to donate.