The Concertzender is looking for a producer for the programme Carib Calling. It's a voluntary position.
Carib Calling is a podium for music from the Caribbean region including Surinam and the Antilles, and also from Latin America and the United States of America. It is based on an idea from hostess Noraly Beyer, about 'Special Guests' who choose their own theme and music choices.
Job Description
As producer you are primarily responsible for the organisation around the programmes. You arrange the necessary facilities and materials, contact the artists and presenter, draw up the instruction manual, etc. At the start of a production you determine whether the proposal is financially and organisationally feasible.
You also have artistic responsibility for the programmes and have to maintain an overview of all aspects of the production. You don't just go through the instruction manual with the technician and visit the locations, you're also present at the recordings of the artists in the studios.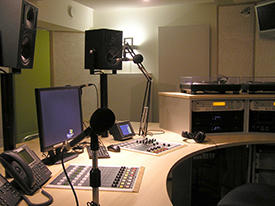 Broadcast frequency
Carib Calling is broadcast on the Concertzender every first Friday of the month, from 21:00 to 22:00.
Broadcasts / recordings
To date 11 programmes have been recorded, the last of which will be broadcast on Friday 1st June 2018. In July and August there will be no broadcasts. On Friday 7th September Carib Calling restarts on the first Friday of the month.
Hours
Approximately 16 hours per week.
Are you interested in this job?
Send an email to Cobie Ivens: cobie@cobieivens.nl