From the 6th to the 8th of April the eighth edition of the adventurous music festival Rewire is taking place in Den Haag. The programme consists of about 100 concerts, talks and workshops with leading local and international artists. The Concertzender will also be there to make recordings.
The programme of Rewire 2018 consists of Dutch, European and world premieres, special collaboration projects and exhibitions. The concerts, artist-talks, lectures and workshops will be held in 12 locations in the centre of Den Haag: Elektriciteitsfabriek, Grote Kerk, Lutherse Kerk, Paard, Korzo, Koorenhuis, Het Nutshuis, The Grey Space, Zaal 3, West, West Museumkwartier and Het Magazijn.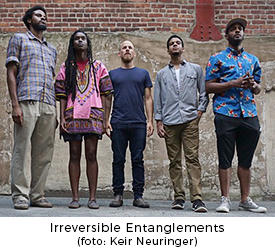 Highlights of the festival
Irreversible Engtanglements, a free jazz-collective led by the American poet and noise-artist Camae Ayewa, also known as Moor Mother - further consisting of saxophonist Keir Neuringer, bass player Luke Stewart, trumpeter Aquiles Navarro and drummer Tcheser Holmes.
The legendary multimedia artist Laurie Anderson is 'Artist in Focus' during Rewire 2018, a new concept in the festival programme in which pioneers ('early innovators') from music/arts who have had a great impact on the contemporary art world and have inspired a new generation of artists are featured.
As highlight Laurie Anderson will present her new multimedia performance entitled All The Things I Lost In The Flood, in the Grote Kerk on Sunday 8th April. Start 21:15.
Maryam Saleh, Maurice Louca & Tamer Abu Ghaza are among the leading contemporary Arabian artists of the moment. They recently brought out their collective masterpiece Lekhfa, which among other things received a five star review from the British quality newspaper The Guardian. The trio from Caïro mixes elements from Arabic music, jazz, rock, shaabi and electronics - completed with singer Maryam Saleh's translations of the dystopic poetry of poet Mido Zoheir.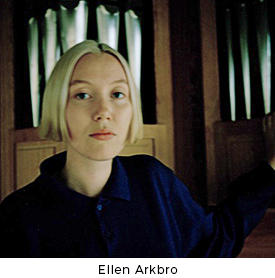 Concertzender at Rewire
The Concertzender will also this year be recording a number of concerts during the Rewire festival. On 6th and 7th April our recording technicians will be in the Lutherse Kerk in Den Haag.
On 6th April we'll record Mia Zabelka, James Plotkin & Benjamin Finger and Zimpel/Ziolek.
And of the 7th April Ellen Arkbro + Zinc & Copper and Stephan Meidell.
Rewire on the Concertzender
On Sunday 18th March an X-Rated special previewed the 2018 edition. You can listen to this episode via this link.
Space Exposure will cover The Rewire Festival on Sunday 1st April at 20:00 CET. And on Thursday 5th April you can listen to a Free Radicals special about Floating Points via this link. They are at Rewire on Friday 6th April.
Listen also to the recordings which the Concertzender made during Rewire 2017 in these two Concertzender Live programmes: