In Concertzender Live on Thursday 12th April you can hear two recordings from the Early Music Festival 2017 with music by Telemann. It's the concerts

Telemann Solos: Fantasias for Flute

by Rachel Brown and the

Fabulous Fringeconcert

with Suites by Telemann performed by The New Baroque Orchestra.
Telemann Solos: Fantasias for Flute
The 12 Fantasias for flute by Georg Philipp Telemann are feats of finesse, variation, contrast and invention. Each Fantasia has its own key and its own atmosphere. An outstanding opportunity for the flute to present itself in different colours. The Brit Rachel Brown plays traverso.
Fabulous Fringeconcert: Suites by Telemann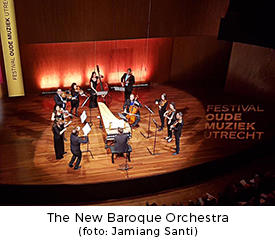 The New Baroque Orchestra was fomed in 2015 by young musicians from the European Union Baroque Orchestra. The orchestra devotes itself to historic performance practices.
They made their Festival debut in 2017 with their Fabulous Fringeconcert. The New Baroque Orchestra plays two suites by Telemann: the Volker-Overture and La Musette.
Both recordings were made in the Hertz hall of TivoliVredenburg in Utrecht.
Broadcasts:
Thursday 12 April 2018, 20:00 - 22:00 CET
Friday 20 April 2018, 15:00 - 17:00 CET