Ronald Kuit studied analogue and digital sonology at the Institute
of Sonology in Utrecht with, among others, Jaap Vink, Stan Tempelaars, G.M. Koenig and W. Kaegi. After that he trained
himself in composing with Kaija Saariaho and Philippe Manoury
at the IRCAM in Paris.
Roland Kuit is an independent researcher, teacher in modular synthesis and composition. He invented numerous advanced concepts in sound synthesis. As
an author he wrote about modular sound synthesis, research and sound design.
His 'Laboratory of Patching; Illustrated Compendium of Modular Synthesis' is used worldwide at universities. He therefore gives guest lectures at diverse institutes about this subject. His motto is: From research to composition. Roland Kuit's work, CDs and books are published under Donemus.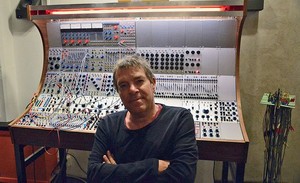 Fan of Reiziger
Roland Kuit: "I have always
been a huge fan of 'Reiziger
in muziek' (traveller in music).
This TV programme stood for experiments and modernization. It was presented by the inimitable Han Reiziger. The national stations are pushed
into a moderate straitjacket
by the politics. That is why I
am delighted that the Concert-
zender offers me the space for this experiment. Renewal can only come about by independent research."
Roland Kuit reports his research and compositions from Elektronmusik Studion Stockholm. He has interviewed Mats Lindström and has made reports about the technical department studio's and the active composers at EMS.
For more information: